Monthly Quantitative Research - BEQUANT Digital Asset Prime Broker

In this month's quantitative report, BEQUANT's Head of Research Martha Reyes and her team look at the economic realities in China and reverberations from the FTX fallout including exchange dynamics, DeFi depegs and stablecoin volumes.
"Grayscale Bitcoin Trust's discount to NAV widened to new levels as liquidity issues at related company, Genesis, generated
unease around the trust and parent DCG"
Access this complimentary market report and stay up to date with the market. Make sure you subscribe to receive in-depth analysis each and every month, direct to your inbox.
Sneak preview of November's issue: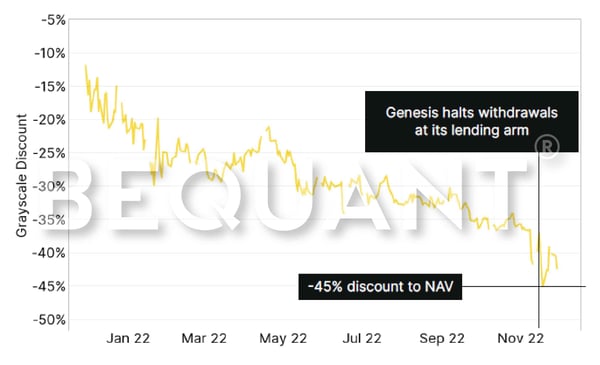 DISCLAIMER: This document contains information that is confidential and proprietary to Bequant Holding Limited and its affiliates and subsidiaries (the "BEQUANT Group") and is provided in confidence to the named recipients. The information provided does not constitute investment advice, financial advice, trading advice nor any other sort of advice. None of the information on this document constitutes or should be relied on as, a suggestion, offer, or other solicitation to engage in, or refrain from engaging in, any purchase, sale, or any other any investment-related activity with respect to any transaction. Cryptocurrency investments are volatile and high risk in nature. Trading cryptocurrencies carries a high level of risk, and may not be suitable for all investors.
No part of it may be used, circulated, quoted, or reproduced for distribution beyond the intended recipients and the agencies they represent. If you are not the intended recipient of this document, you are hereby notified that the use, circulation, quoting, or reproducing of this document is strictly prohibited and may be unlawful. The content of this document is private and confidential and intended only for the person to whom it is transmitted. This document is being made available for information purposes and shall not form the basis of any contract with the BEQUANT Group. Any transaction is subject to contract and a contract will not exist until formal documentation has been signed and considered passed.
Whilst the BEQUANT Group has taken all reasonable care to ensure that all statements of fact or opinions contained herein are true and accurate in all material respects, the BEQUANT Group does not make any representation or warranty or gives any undertaking as to the accuracy, timeliness, or completeness of any such information and assumes no liability for losses arising from the use thereof. All recipients should seek independent professional advice before making any financial decisions. The BEQUANT Group also assumes no liability for direct, indirect, accidental, extraordinary, or consequential losses or damages resulting from the use of this information or in any connection therewith. Prospective investors must rely on their own examination of the legal, taxation, financial and other consequences of potentially investing in the BEQUANT Group. The BEQUANT Group assumes neither explicit or implied liability or guarantee with respect to the future performance of the BEQUANT Group whether mentioned in this document or not.
This document may not be reproduced in whole or part, without the written permission of the BEQUANT Group.